The last frame.
It's all about those "moments" in time. As a documentary style photographer nothing makes me happier than to take a photo like this.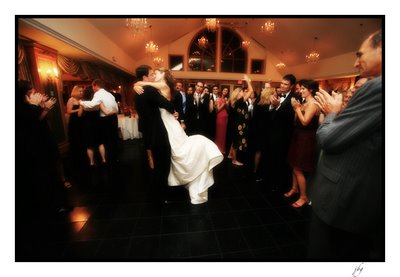 The last dance of the evening - As the MC of the band announced it was the last dance, I watched Berit's eyes light up looking for Marc. She grabbed him and they enjoyed the last moments of a wonderul evening together with friends and family. As the song ended Marc grabbed Berit, swung her around and gave her a big kiss. For me to have this as the last frame in my camera for the evening topped off a great day!
Normally I would post a few more teasers - this time however I am going to direct you to my friend
Frank DiMeo's blog
. I was fortunate enough to have him with me Saturday - after spending 5 hours in the car, he jumped out and said "J - man, are you ready to rock the house?" With a smile on his face he threw on his black shirt, started shooting, and never stopped. I was playing "catch-up" all day long. :) Seriously though, Frank's passion for shooting is awe-inpspiring, and we have learned so much from each other - thanks Frank for your hard work yesterday. I am sure their jaws will drop as much as mine did when I opened your blog page!
Slide show to come soon!!